So if there's one room I consistently work on, its the dining room. Even though I think I've finished it for now, I know that I will still be working on it for some time. The dining room (or space, I should say) is right next to, and open to, the living room. It is also adjacent to the kitchen. Here is what the space looked like empty:
I knew that I wanted to get a long table that could extend for more guest, so I went to Ikea (of course) and got the
Bjursta extendable table
in color black/brown. I also bought four
Stefan chairs
. Overall, I like the table and chairs. I like being able to extend the table, which can fit ultimately 10 people. It is also very easy to extend as long as you have help from one other person. The Stefan chairs were very easy to put together. They are VERY lightweight, but also very sturdy and comfortable. Pretty nice for only $25 each! The table was $249 because I bought the largest one.
For the end seats, I wanted to do something different. So at first, I went with two upholstered gray/purple chairs from Ross. They were $60 each. I really like the look of the chairs at the end of the table. Later I changed the chairs to the
Ikea Kaustby chairs
($50 each) because I ended up moving the Ross chairs behind a desk in my living room (pics coming soon). As soon as I find some other nice upholstered chairs, they will again replace the
Kaustby chairs
.
I went for a long time without a sideboard/server/buffet (whatever you want to call it). It wasn't until a few weeks ago that I bought this very important addition from, of course, Ikea. The sideboard is the
Hemnes sideboard
and it was on sale for $255. Its a very nice piece and its big, so it holds a lot of my glassware. My husband set up it like he does with all of our Ikea furniture (bless him...). He also anchored it to the wall for safety.
Overall, I am very happy with our dining room. I went with the blue beachy theme (which we have going throughout the house). I bought the painting and surrounding mirrors from
Homegoods
($50 for the painting, $10 for the set of mirrors). On the sideboard, the lamp, mirror, and most of the decorations came from
Ross
and
Target
. I am still on the lookout for a cute rug for our dining room. Here is one option from
Wayfair
: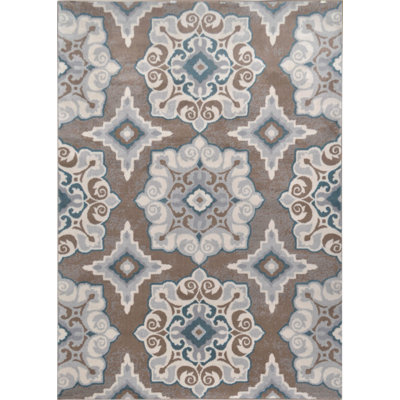 What do you guys think? Too much going on? Anything that might make our dining room look better? I love opinions!